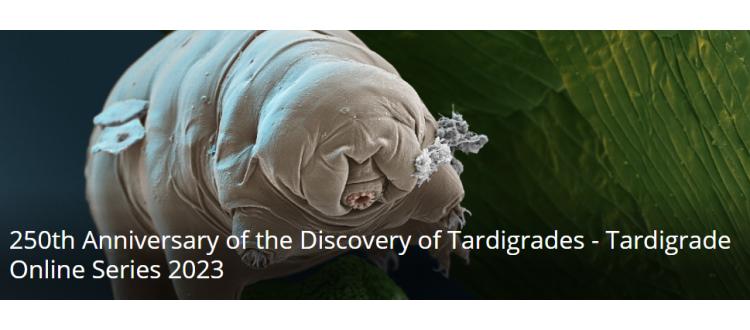 250th Anniversary of the Discovery of Tardigrades - Tardigrade Online Series 2023
link: https://eveeno.com/131413005

Water bears are true survival artists that occur in the most diverse habitats on earth. They live in dry desert regions, on glaciers, in rivers and lakes, in cold and tropical seas, and also on your doorstep on walls, roofs and between stones.
Everything started with Johann August Ephraim Goeze, a protestant pastor in Quedlinburg, Germany. In his hours of rest, he refreshed himself with the microscopic examination of the boundless wealth of nature he found in water. And that led to the first discovery and description of a small animal which looked similar to a little bear. Therefore, he gave these animals the name "kleiner Wasserbär" (small water bear) in 1773. In 2023 we are celebrating the 250th anniversary of the discovery of these fascinating animals.
Over the last two and half centuries, an ever growing number of people have become fascinated by these animals and their amazing survival abilities that show us the wonder of life. No other group of animals has been able to adapt so perfectly to rapidly changing environmental conditions, even though they are usually less than 1 mm in size.
How they manage to dry out completely or freeze without damaging their cells is still unclear despite intensive research. Some water bears have even been in space as part of scientific experiments.
Why join?
In 2023 we are celebrating the 250th anniversary of the discovery of these fascinating animals. Join this comprehensive tardigrade online series. 12 leading international scientists and young scientist from Denmark, Germany, Italy, Japan, Poland, Sweden and USA will give us an insight into the exciting life of tardigrades.
12 experts, 12 keynote lectures
In each month of the anniversary year 2023, we move between the 18th century and the present – from the first sketch Johann August Ephraim Goeze drew in 1773 to the most modern research methods. Everyone can take part in this lecture series. It doesn't matter if you are a pupil, student, scientist or just an ordinary citizen interested in these animals. Some may simply want to learn general information, others may be interested in specific topics.
More in information about the experts sharing their insights at www.tardigrade-online.org .
How to join?
You can attend all 12 events for a full price of € 25.00. It is also possible to attend only individual lectures. In this case, the participation fee is € 5.00 each. Can't make the date? No problem. Once you have registered, you can watch the recording online for the next 30 days, so you can catch up whenever it's convenient. Do you have a promotion code? Then you can enter it at the end of the registration before confirming the booking with "book now".
Certificate of attendance
All participants will receive a certificate of attendance after each lecture containing the title of the lecture and name of the keynote speaker.
Note for students: Wether this lecture series can be recognized in any form as a course credit must be clarified with the respective school, faculty or university.
Special anniversary volume
Every participant will be given an opportunity to submit manuscripts to the special anniversary volume. The special anniversary volume "Tardigrades in Space and Time – Taxonomy, biogeography and biology" will be published in Organisms Diversity & Evolution. More in information about submitting a manuscript at www.tardigrade-online.org .
Questions?
If you have any further questions or need assistance, please, get in touch with info@tardigrade-online.org .
We look forward to you joining us.
Yours sincerely,
Ralph O. Schill & Team

link: https://eveeno.com/131413005