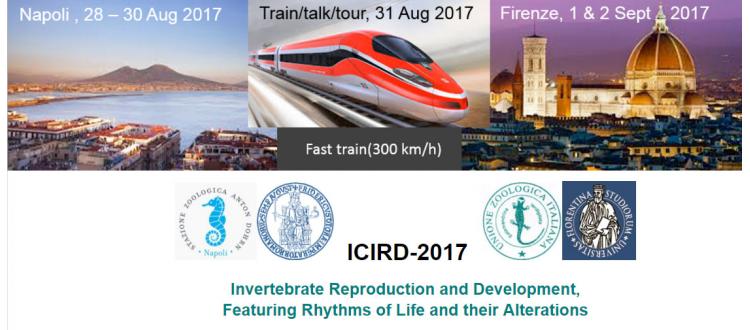 Fourteenth International Congress on Invertebrate Reproduction and Development (ISIRD)
Napoli: 28 August 2017 opening reception, 29 - 30 August 2017 scientific sessions
31 August 2017 Train/Talk/Tour to Firenze
Firenze: 1 & 2 September 2017 Scientific Sessions and Congress Banquet
Sponsored by the International Society for Invertebrate Reproduction and Development (ISIRD) and other SPONSORS
Stazione Zoologica Anton Dohrn of Napoli and the University Federico II of Napoli, Italy, with the University of Florence and the Unione Zoologica Italiana (UZI) will jointly host the 14th International Congress on Invertebrate Reproduction and Development from August 28, 2017 to September 2nd, 2017.The central theme of the Congress will be Rhythms of Life and their Alterations (including both early development and aging); however, the conference expects to encompass all aspects, numerous phyla, and a range of technical approaches to understanding and applying knowledge of invertebrate reproduction and development. The conference will include a presentation on neural development in Caenorhabditis elegans by Nobel laureate Martin Chalfie and many opportunities for students and post-docs to participate in presentations, discussions, and awards,
In addition to the scientific program, the Congress promises to be an exciting venue for informal interactions and experiencing the culture and beauty of Italian cities and countryside. Receptions are tentatively planned for various art and historical sites in Napoli and Firenze. Beginning for two days near the historically significant and leading marine science location of the Stazione Zoologica Anton Dohrn in Napoli, Italy, the conference will then move via a special, perhaps unique mid-conference train transfer, with talks and excursions to Firenze, Italy, where the beauty of the city and its wonderful venues will facilitate a Presidential Symposium, banquet, and continuation of scientific sessions. ICIRD is the triennial meeting of the International Society for Invertebrate Reproduction and Development..
Locations of the conference sessions will be Napoli, 1st day Castel dell'Ovo; 2nd day University Federico II Congress facility; 3rd day-on train; Firenze 4th day, University Congress facility; 5th day tentatively Salone dei 500. A reception at the Stazione Zoologica Anton Dohrn is planned while the conference is in Napoli..
The scientific program will include plenary topics and keynote presentations on:
1) Seasonal rhythms of reproduction (G. Innocenti)
2) Global changes and rhythms of life (M.C. Gambi)
3) Pests, diseases and invertebrate biology (J. Campos)
4) Environmental influences on invertebrate sexual development (G. Rotland)
5) Biological clocks and their alterations (M. Vannini)
6) Master manipulator of invertebrate biology (E. Aflalo)
7) Life cycles and their alterations (G. Chelazzi)
8) Hormonal induction of reproduction and development (A. Sagi)
9) Ecosystem alterations influencing reproduction and development (U. Hoeger)
10) Evolutionary transitions in sexual systems (Janet L Leonard and Cristina Lorenzi)
11) Aging in invertebrate model systems (Jeffrey Ram and Francesca Macchiarini)
12) Keynote: Determining Neuronal Fate in C. elegans -- Martin Chalfie, Nobelist
13) Presidential Symposium: Ronald J. Konopka Memorial Presidential Symposium on
Circadian Clock Mechanisms and the Impact of the Discovery of per in Drosophila Ecolosion (J.L. Ram)
Symposia and contributed paper sessions may also include:
Central nervous system development
Crustacean reproduction and development
Insect and molluscan reproduction and development
Impacts of climate change on invertebrate reproduction and development
Evolution of animal body plans
Development of the visual system in insects
Epigenetic mechanisms
Gamete biology
Stress mechanisms in early development
Mechanisms of sex determination and regulation of sex chromosomes
Esthetics, educational value, conservation, and agricultural benefits of invertebrates
Reproduction and development of invasive and nuisance invertebrates
Insect vectors of human disease and medical impacts of invertebrates
and other topics (organized according to contributed papers)
For more information or to suggest additional symposia topics contact the chair of the organizing committee, Dr. Valerio Zupo, at vzupo@szn.it